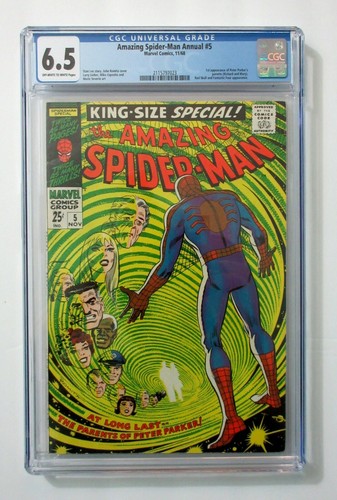 Price: 153.42 USD
Amazing Spider-man Annual 5 CGC 6.5 1968 Marvel Comics Spiderman comic book:60's




Your CGC comic book will be very well packaged and shipped promptly after payment.

Although I will note any significant imperfections in any of our slabbed/graded CGC comic books, any CGC case might display minor imperfections including Newton Rings, slight inner Ill scuffing (which is present at time of encapsulation), or standard surface Iar (minor scratches or scuffing). Please look closely at the photos before making your purchase. 

Regarding Newton Rings, CGC does not consider them a defect, and here is a quote from CGC themselves: "This is an occasional effect produced by the inner and outer cases being in direct contact with one another. The visual effect is similar to oil on a water puddle because of the two plastics. Ultimately it is not anything that is in direct contact with your comic, nor will it affect the comic's condition over time." – Gemma Adel, CGC

There are no returns on CGC graded books, and I have no control over the grade CGC issues a comic book. If you require a pristine, perfect comic book or don't agree with CGC's grading, please do not purchase.

Please do not contact us with lowball offers.

This is a CONTINENTAL USA ONLY listing. Thanks for understanding. Inventory Code H659751.