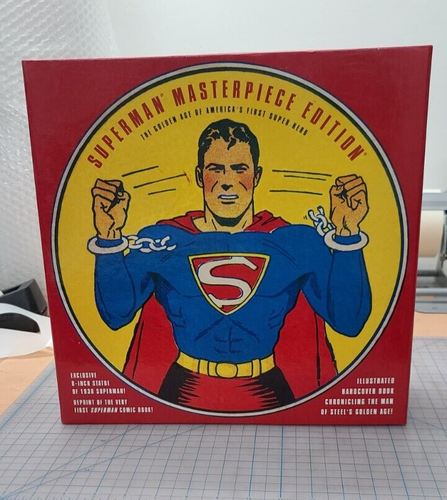 Price: 250.00 USD
SUPERMAN MASTERPIECE EDITION SUPERMAN 1 REPRINT, 8″ STATUE & HARDCOVER




SUPERMAN MASTERPIECE EDITION SUPERMAN 1 REPRINT, 8″ STATUE & HARDCOVER in Mint Condition!
I am the original owner. The hardcover book and figurine have never been removed and the comic was removed once or twice to photogragh and is in MINT CONDITION. The 1999 comic reprint alone has sold for over $250.00 here on eBay
INCLUDES:
1) the STATUE, modeled after the 1938 Superman ONLY AVAILABLE IN THE MASTERPIECE EDITION and NEVER REMOVED FROM BOX!
2) SUPERMAN 1 COMIC BOOK, reproduced full-color of the very first Superman comic book, 1939. MINT CONDITION
3) HARDCOVER BOOK, by Les Daniels, an illustrated chronicla of The Man of Steel's Golden Age (1938-55). MINT CONDITION, NEVER OPENED OR REMOVED FROM BOX