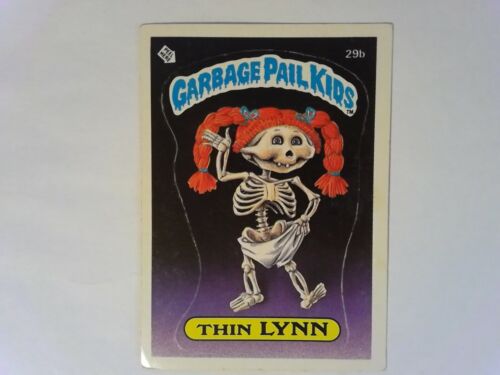 Price: 11.67 USD
1985 Garbage Pail Kids #29b Thin Lynn (Reform School) – Matte Back




Tiger of Happiness ebay Sales
I prefer to let the photos speak for themselves instead of assigning grades to cards. The card you see is the card you get. If I show multiple cards available then all will be in the same condition as the one photographed. 
Pay only one shipping charge on cards. And pay only one shipping charge on supplies.

Put
all the sleeves, dice, mats, deck boxes and other gaming supplies from
my listings that you want in your cart then check out all at once to pay
only a single shipping cost. Many of my non-gaming items also qualify,
if in doubt, put it in the cart and see.
Shipping
Most
items ship the next business day. I usually do not ship on Saturdays.
Post office delays are entirely the fault of the post office. I reserve
the right to refuse orders addressed to freight forwarding services.

Standard envelope card orders are frequently delivered later than the estimated times, this is entirely the fault of the US Post Office, as I ship my
cards
every day monday through friday.