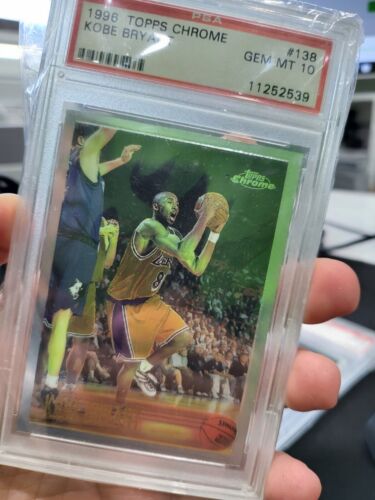 Price: 6,800.00 USD
1996 TOPPS CHROME KOBE BRYANT ROOKIE #138 PSA 10 GEM MINT




Are you ready to own a piece of basketball history that will make your friends green with envy? Look no further than this incredible 1996 Topps Chrome Kobe Bryant Rookie #138 PSA 10 Gem Mint card! This is not just any ordinary basketball card; this is THE card that collectors dream about, and it can be yours today!
Step into the world of the Entertainment and Media industry and become the proud owner of this iconic Kobe Bryant Rookie card. This magnificent piece showcases the raw talent and explosive energy of a young Kobe, capturing his determination and drive to become one of the greatest basketball players of all time.
Picture this: you're sitting with your friends, surrounded by sports memorabilia, and you casually pull out your 1996 Topps Chrome Kobe Bryant Rookie #138 PSA 10 Gem Mint card. Their jaws drop, their eyes widen, and they can't help but be awestruck by the sheer brilliance of this piece. You become the envy of the room, the master of your domain, and the ultimate basketball aficionado.
But let's talk about the card itself. This Kobe Bryant Rookie card is in a league of its own. Graded a perfect PSA 10 Gem Mint, it is flawless, pristine, and oh-so-desirable. This card has been meticulously preserved, ensuring that it retains its original luster and remains in tip-top condition for years to come.
The 1996 Topps Chrome Kobe Bryant Rookie #138 is a true masterpiece. It features a dazzling chrome finish that catches the light in all the right ways, making the card shine like a beacon of greatness. The image depicts a young Kobe, poised and ready to take the basketball world by storm. It's like owning a snapshot of history, frozen in time, capturing the exact moment when a basketball legend was born.
Now, let's talk about the bragging rights that come with owning this card. You'll be able to regale your friends with tales of Kobe's career, from his incredible scoring feats to his numerous championship victories. You'll become the go-to person for all things Kobe, and everyone will flock to you for your wisdom and expertise. Who needs Google when you have this card in your possession?
But wait, there's more! This card is not just for show; it's an investment. As the years go by, the value of this card will only skyrocket. Kobe Bryant's legacy will continue to grow, and with it, so will the demand for this rare gem. So not only will you be the proud owner of an amazing piece of sports history, but you'll also be making a smart financial decision.
So what are you waiting for? Don't miss out on this once-in-a-lifetime opportunity to own the 1996 Topps Chrome Kobe Bryant Rookie #138 PSA 10 Gem Mint card. Take the leap, make the leap, and elevate your collection to new heights. Order now and secure your place in basketball lore. The time is now, my friend. Own it.