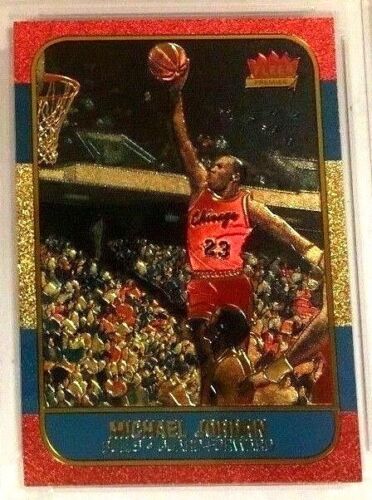 Price: 34.95 USD
MICHAEL JORDAN FLEER 10TH ANNIVERSARY "REFRACTOR BRUSHED GOLD" ROOKIE CARD!!!




10th Anniversary Fleer Rookie Card 
** POLYCHROME BRUSHED GOLD **
This special polychrome Michael Jordan Rookie card was released by Fleer in 1996 to celebrate the 10th Anniversary of the Michael Jordan 1986 Rookie Card. Fleer released two editions of the 1986 Fleer Rookie Card 10 years later…one was a paper version called "Decade of Excellence" and one was a unique "Polychromatic" version that featured 2 types of borders (Brushed-Gold & Refractor-Gold). It was a new trading card technology that was way ahead of its time, but never made it to market due to Fleers demise. It is a very sought after card by all Jordan collectors. The 1986 Fleer card is often called the "Holy Grail" of all basketball cards. 100% authentic and original.

HIGHLIGHTS: 

• 1996-97 10th Anniversary Rookie Cards
• Brushed Gold Version
• Extremely hard to find cards feature amazing detail
• Rare issue released by Fleer in 1996, approximately 20 years ago
• Satisfaction Guaranteed.
International rates for Gold cards are $14.99 plus $1.00 per additional item! Feel free to send me offers for multiple items and qualify for discount shipping rates and lower costs per item! I send daily invoices every morning so be sure to wait for your combined shipping invoice before checkout or request an invoice when you are ready to pay. Please keep in mind shipping and handling fees don't just cover postage but also ebay/paypal fees, supplies, taxes and other costs. 5 Star feedback is Greatly appreciated! Thank you for shopping!
Check out my other listings for $1.00 Football, Basketball, Baseball, and Hockey card lots @ 8x Beckett Book Value! That is the best value on ebay or anywhere else!