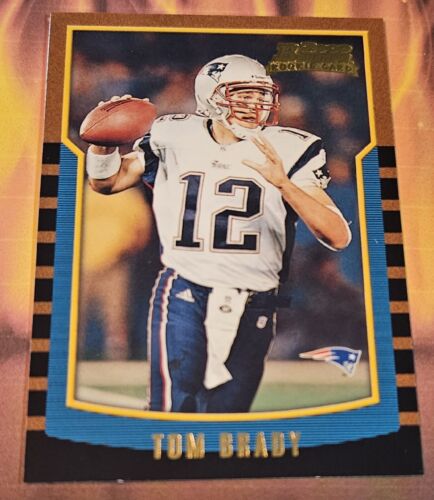 Price: 499.98 USD
🔥🏈 2000 Bowman Tom Brady Rookie RC #236 ⭐️ Card Has Been Altered. See Info




Read carefully before making a offer or buying this
This rare 2000 Bowman sports trading card features Tom Brady, the legendary quarterback of the New England Patriots and Tampa Bay Buccaneers. It's an original and the bottom edge looks like it was a bad cut, and appears that a black marker was used on the bottom edge although it does not appear in the photos.  The marker seems to only be on the back lower edge but seems to show someone was trying to to hide the bad cut to the bottom. So be aware before you buy this, this card has been altered although it it an original and still would be a handsome card to display, since the marker apears to only have been used on the back.  be aware this card will not grade as any stated condtion.  If you send it to be graded. It will be graded as authentic altered, but it still would be  perfect for any fan or collector who wants one of the rarest Brady rookie cards.   The card number is 236 and it's from the National Football League (NFL)Bowman's base set.
This card is a must-have for any football enthusiast, especially those who are looking to add a Tom Brady rookie to their collection and the Bowman card is the most sought after rookie card because it enjoyed a short print run.  It's a licensed original and not a reprint. Get your hands on this Bowman Tom Brady rookie card and own a piece of football history.
Note that purchasing this card means that ebay protects your best interest.  Before I am released funds that you pay them.  I will be required to mail the card to a third party Authenticator.  They are not there to grade the card, but will inspect the card to determine if the card is indeed authentic and that it is what i advertised it as. it is a authentic card, but has been altered on the back lower edge and black marker does apear to have been used.
Check out my other listings for more great investment opportunities. All items will be shipped with a tracking number and scanned at the post office by 3pm on Monday and Thursday of each week.