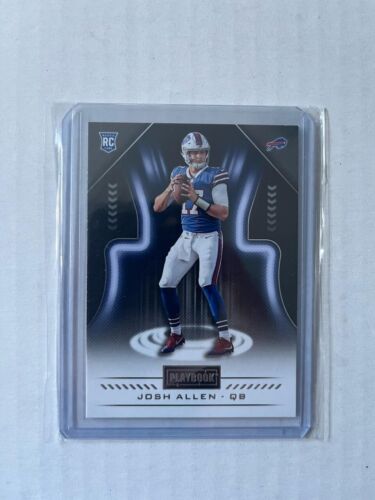 Price: 30.00 USD
2018 Panini Playbook Josh Allen ROOKIE Buffalo Bills RC Card # 124




2018 Panini Playbook Josh Allen ROOKIE Buffalo Bills RC Card # 124 
Backside Small White Can be Seen on Upper Left Corner – Zoom in on Photo 
Backside Small White Can be Seen Bottom Center – Zoom in on Photo 
Just noting this for you, as I'm not a grader of
cards
, and not sure if this is standard for this set of cards. 
Card shown in photos is the exact card shipped to you. Card will be shipped in a penny sleeve with a top loader to protect card. 
Listings $20.00 and Under – Card will be Shipped Using eBay Standard Envelope Service – Using a cardboard photo mailer to ship card. Card will be shipped with as much protection as I can use, keeping within the allowable ship dimensions, and weight (3 oz.)
Listings Over $20.01 – Card Shipped First Class USPS, in Bubble Mailer. Note card is sandwiched between cardboard to protect card during shipping for a safe delivery. 
If you'd like additional photos please request, I'm happy to send them as requested.