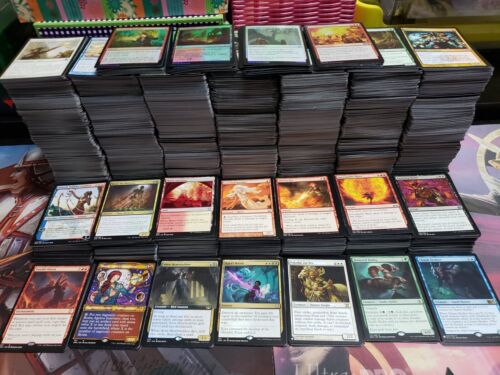 Price: 40.99 USD
4000+ MTG MAGIC THE GATHERING CARDS COLLECTION LOT – COMMON UNCOMMON RARES FOILS




4000+ MTG Magic the Gathering cards!
Only cards from 2003 sets and onwards. Perfect for Modern, Pioneer, Commander and Standard play!!!
This lot is a very small part of a very large inventory accumulated over the years, and it is filled with many great MTG Magic the Gathering cards. There are commons, uncommons and some rares and foils. Cards coming from sets like Modern Horizons, Modern Horizons II, Commander Legends, Ikoria Lair of Behemoths, MTG Core Sets, War of the Spark, Dungeons & Dragons Adventures in the Forgotten Realms, Strixhaven School of Mages, Zendikar Rising, Theros Beyond Death, Throne of Eldraine, Ravnica Sets, Mystery Booster, Jumpstart, Kaldheim, Battlebond, Dominaria, Modern Masters, Double Masters, Ultimate Masters, Innistrad Midnight Hunt, Innistrad Crimson Vow, Timespiral Remastered, Conspiracy, Kamigawa Neon Dynasty, Streets of New Capenna, Commander Legends Baldur's Gate, Dominaria United, The Brothers War, Dominaria Remastered, Phyrexia All Will be One, March of the Machine, Lord of the Rings, Wilds of Eldraine, Doctor Who, The Lost Caverns of Ixalan, and many others!
These cards are from Wizards of the Coast MTG sets starting back from 2003. This box has a good variety of these sets. You will NOT find any basic lands in the box. Please message me if you wish to have some basic lands for deck building purposes (please specify the amount and how many for each color). Most of the cards are in NM or better condition (some are light played). All cards are in English. I took pictures to show the set symbols to help give you a better idea of the sets you will be getting!
Please note that all pictures are stock photos for all of my Magic the Gathering boxes collection lots, showing a lot of the set symbols that could be packed in the box! As you can see, there is a LOT of different sets!