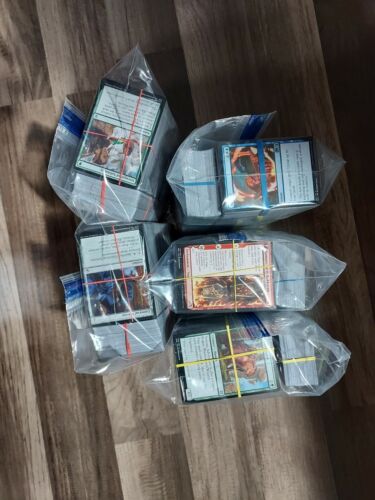 Price: 16.00 USD
Magic The Gathering Cards, multiple sets Read Deascription!!! 800 piece bulk lot




800 COUNT Bulk Lot Magic The Gathering Cards, multiple sets Read Deascription!!!.
THESE LOTS ARE FOR 800 PIECES OF Magic the Gathering Cards!!
CARDS CAN CONSIST OF EVERYTHING MTG. LANDS, ARTIFACTS, TOKENS, CREATURES ETC.
MOST LIKELY NO FOILS OR RARES, BUT IF WE MAKE LARGE PURCHASES FROM OUR WHOLESALERS THERES CHANCES OF BETTER CARDS BEING IN THERE.
WHEN BUYING BULK PLEASE UNDERSTAND THER WILL BE DUPLICATION. WE TRY TO PREVENT SUPER HEAVY DUPLICATION, HOWEVER WHEN PACKAGING AROUND 10,000 CARDS A DAY ITS HARD TO TAKE TIME TO ENSURE DUPLICATION RATES.
CARD CONDITIONS CAN VARY FROM DAMAGE- NEAT MINT (WE LITERALLY PULL FROM 5 ROW BOXES AND START COUNTING.