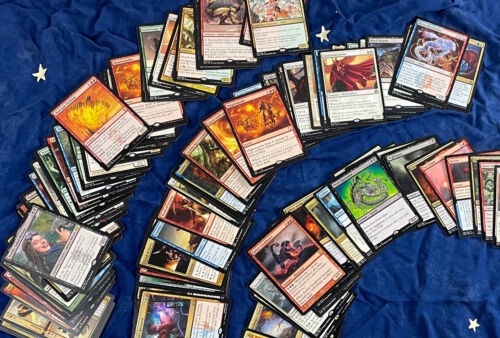 Price: 18.39 USD
mtg Magic the Gathering 75 BULK RARE LOT card collection edh commander 1 mythic




75 Magic the Gathering random mixed bulk rare game cards + 1 bonus mythic rare.  You'll receive a
good mix of Black, Red, Green, White, Blue, Artifact and Multicolor
mtg cards.  No more than 1 copy of any card.  There are only English
language cards in this lot.  The photo is a stock image for reference and the cards you receive may or may not include the ones pictured.  We make sure each of these lots contains a variety of creatures and spells so you can build fun decks.  Enjoy~
Relentless_MTG Magic the Gathering card store singles and playsets — from our collection to your deck.  We offer fair prices on a wide selection of singles, playsets, lots, decks, foils, rares, uncommons and commons from the Magic the Gathering card game. We have thousands of Standard, Modern, Commander (EDH) and Legacy legal Magic the Gathering cards to choose from.
U.S. BUYERS — — We combine shipping to encourage you to buy multiple items.  Get FREE SHIPPING on each item you add after the first.  Visit our ebay store and add all the cards you need to your shopping cart, then pay only the single highest shipping cost among items you order.  Request an invoice or send us a message if there's any problem.  Please make a single combined payment for all items together to receive the discount. 
SHIPPING — First Class shipping on this lot is FREE to the U.S., $11.99 to Canada, and $14.99 Worldwide. 

International buyers please note — Import duties, taxes, and charges are not included in the item price or shipping cost. These charges are the buyer's responsibility.  Please check with your country's customs office to determine what these additional costs will be prior to bidding or buying.
Magic the Gathering is the world's premier trading card game, with millions of players worldwide.  The game's wide appeal is in part that it caters to many kinds of gamers.  There's an active tournament scene, from local game store Friday Night Magic to a Pro Tour with thousands of dollars in prizes.  And there are millions of casual players who never attend a tournament but enjoy battling friends around the dining room table in a fun, casual environment.  
MtG provides opportunities for all types of gamers: competitive, serious players who want to win at all costs; creative, enterprising deck-builders who want to express themselves through play; fun-loving kids and kids-at-heart who love the thrill of smashing enemies with giant monsters; fantasy fans who love the rich lore behind the game's many characters and worlds; and collectors, who have the opportunity to assemble stockpiles of magic cards which can increase in value remarkably.
At RelentlessMTG, we've been operating our Magic the Gathering card store online since 2004.  While we do deal in expensive tournament-winning singles and playsets, we've always been casual players ourselves.  We feel we have a responsibility to help new players find and enjoy Magic the Gathering to keep the game growing.  For that reason, we provide an extensive array of MtG game card lots and custom preconstructed decks to cater to the casual player on a budget.  We aim to maximize fun while still giving players a good shot at winning, at a decent price.  At the end of the day, it's a game, and games are supposed to be fun.  
Whatever the way you like to play, we hope you enjoy browsing the selection of MtG cards in our store, and thank you for giving us a chance to do business with you.