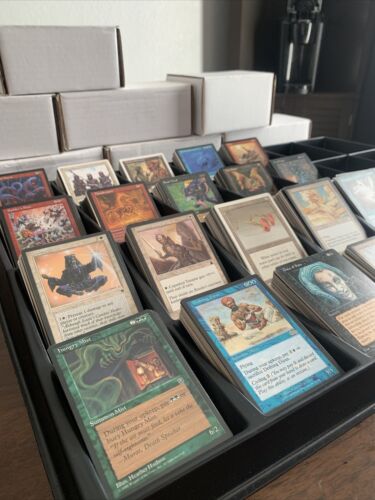 Price: 11.68 USD
Old School Vintage Magic the Gathering Card Lots (read description)




There are few things better than vintage MTG. Each order contains fifty awesome vintage magic the gathering cards from sets ranging from revised edition (1994) to 2003. Revised, Ice Age, Chronicles, 4th Edition, Tempest, Urzas Saga, Scourge, Weatherlight legions, and many other sets could be included. Each order will contain a huge diversity of color and type, with none of them newer than 2003. No duplication in one order, if you buy more than one, you may get some duplication between orders.
For someone looking to reconnect with the old stuff, this is a fanatic way to do it. Rares will be included in orders.
Pictures are of a fraction of the cards we have available, so you may or may not receive the cards pictured, but you will be stoked with what you get.
Will ship securely and quickly.