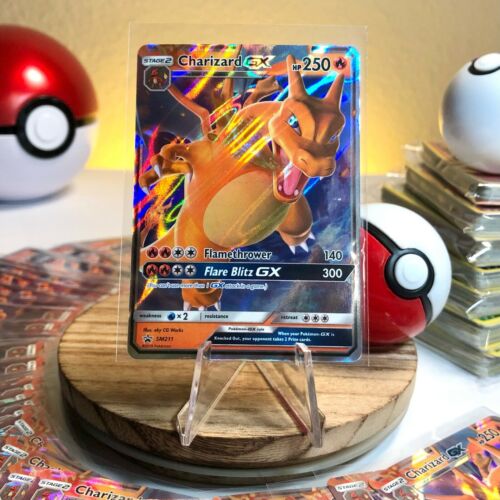 Price: 21.56 USD
Pokemon TCG 50 Cards & CHARIZARD GX V ULTRA RARE | TONS OF HOLOS!




Authentic Pokemon Cards,
Authentic Service 👍
Pokemon TCG 50 Cards Lot & CHARIZARD GX OR V ULTRA RARE | TONS OF HOLOS, Mint Cards!
This lot comes with a guaranteed Charizard Ultra Rare and a wide variety of cards to boost your collection quickly, perfect for kids, deck builders, collectors and more!
In this lot you'll receive 50 OFFICIAL POKEMON CARDS TOTAL
1 –
  CHARIZARD 
GX or V Ultra Rare card
at random! DM for request!
2 –
HOLO RARE / REVERSE HOLO RARES
4 –
REVERSE HOLO 
COMMON / UNCOMMONS
43 –
Assorted RARE / UNCOMMON / COMMON cards
I also include 1 or more
bonus hits – these can be holo rares, holo trainers,
Japanese
 cards, vintage, promo cards and more!
When you order more lots or are a returning customer I always include a few more bonus cards on top of the order 🙂
Buy 2 or more for an automatic discount!
🥇 100
% Positive Feedback Seller 
🥇 
Check my reviews – I've sold thousands of these lots with 100% satisfaction! I've worked hard to make this the funnest Charizard bundle lot to open
. 
Thanks for visiting & 
check out my shop for other 

Pokemon TCG

 related products!
 Appreciate yall! Please contact me for any bundle customizations or specific Charizards you'd like.
About the Cards
Condition of cards are Mint / Near Mint. Most cards are pack fresh and placed directly into storage.
Cards are from modern sets (XY, Hidden Fates, Fusion Strike, Chilling Reign, Evolving Skies, Celebrations, Brilliant Stars) but can be from any generation, even early 2010s!
No trainers 

(unless they are bonus cards)

, No Energies, and Minimal to 0 Duplicates!
🥇 
GOODS BY J GUARANTEE 
🥇 
Pokefam, I'm also an individual collector. You can count on high quality 100% authentic Pokemon cards ONLY, sourced from card shops, other collectors, or official packs.
FAQ
My line is 100% open! Message me with any questions or requests, I'm always here to help. Expect a response within 24 hours, and sometimes within minutes.
Payment
Due within 3 days
Shipping

FAST. I usually process orders the same day with a package drop end of day 5PM PST. Expect an extra day of handling on heavy order days!
ALWAYS WITH TRACKING. USPS First Class or Priority pending on order weight.
WELL PROTECTED. I make sure your goods are secure! Rare holos are sleeved, ultra holos are put into plastic top loaders, all cards are then placed into team bags and taped to rigid cardboard. Orders are then sent in a thick box or bubble mailer. Again, I'm also a collector and it pains me if there's any possibility of your order being damaged in transit!

Returns
Case by case returns on unopened / sealed products only. Things do happen sometimes, so if you're unhappy with your order please reach out first and I'll do what I can to make it right! My goal is to make sure every customer is happy with their order 🙂
Welcome to the Good Fam, I appreciate you <3
 Goods By J | 2023