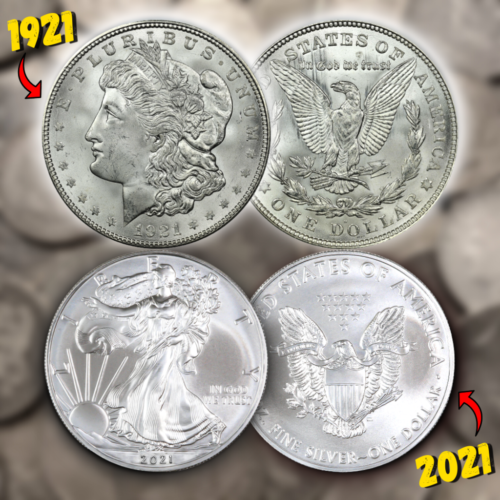 Price: 125.95 USD
✯1921 / 2021 Dollar Set Silver GEM BU ✯ Morgan + American Eagle UNC Estate Lot✯




✯ BU 1921 Morgan + 2021 Silver Eagle ✯
Here is your chance to own 2 of the most iconic US coins ever minted, together in a 100 year set! This offer includes one 1921 Morgan Silver Dollar and one 2021 American Silver Eagle. Both of these coins are in MINT UNCIRCULATED condition. Nice well preserved bright white lustrous coins! Morgan dollars were stuck in .900 fine silver, and the 1oz Silver Eagles are .999 fine silver. Strict limit of 10 sets per customer.
These coins both mark the end of an era. The 1921 Morgan was the final year of the iconic design by George Morgan in 1878. Likewise, the 2021 Silver Eagle will be the final year of the iconic American Eagle design. U.S. Mint Engraver John Mercanti's Heraldic Eagle reverse on the American Eagle silver coin has been coupled with sculptor Adolph Weinman's Walking Liberty obverse since 1986. These are both extremely sought after final production year coins. Both coins will be mailed in protective flips to safely present and preserve them.
With silver demand through the roof, these sets could make for the perfect investment or gift. Any date American Eagle is going for an extreme premium, and all Morgans in any condition have been hard to obtain. We recently acquired 100 additional sets, but they will not last forever, these are hard to keep stocked. Don't miss out on your chance to own these 2 highly collectible silver coins! Remember, these sets come with FREE shipping.
Message us for discounts on larger ebay orders from this listing. 
Happy Collecting,
Jeffscoins