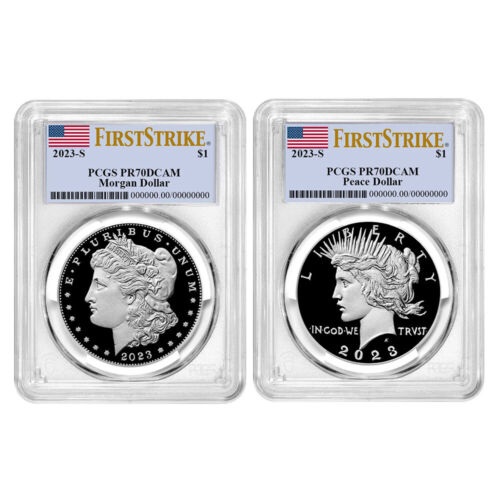 Price: 299.00 USD
Presale – 2023-S Proof $1 Morgan and Peace Silver Dollar 2pc Set PCGS PR70DCAM F




Store newsletter
Add our store to your Favorites to receive our email newsletters about new items & special promotions.
Presale – 2023-S Proof $1 Morgan and Peace Silver Dollar 2pc Set PCGS PR70DCAM FS Flag Label
Click Thumbnails to Enlarge
Product description
Presale Item (Estimated Ship Date 9/7/2023)
Please note if your order includes a presale item, the order will be delayed until the presale item becomes available for shipping.
Shop with confidence knowing when you buy from Pinehurst Coins, you are buying the best. Each coin has been carefully assessed by the Professional Coin Grading Service (PCGS) and is certified to be in near-perfect condition. These coins are shipped in their original PCGS certification slabs to protect their condition.
Coins arrive in protective slabs courtesy of the PCGS
Free Shipping on all orders
The coin pictured is only a representation of the coin you will receive, not the exact coin (serial numbers will vary)
If you have any questions or concerns, please don't hesitate to contact us. Our dedicated customer service team will be happy to assist you M-F from 9 am to 5 pm EST. We are committed to accommodating your needs to the best of our abilities.
We offer free shipping on all of our listings!
All items must be shipped directly to your registered eBay address, no exceptions. We will not ship it to an alternative or forwarding address.
All of our packages are fully insured. Orders over $750.00 require Signature Confirmation. No insurance claim will be processed if the United States Postal Service or any other carrier designates the package as delivered via tracking number, regardless of circumstance.
In general, we ship items using USPS First Class Mail or FedEx Ground. Other methods may be used depending on circumstance.
eBay will post an estimated shipping time as soon as shipping information is uploaded to an order. This time frame is only an estimate, not a guarantee.
Please be sure to verify that your order is correct prior to submitting payment. Once an order is placed it can only be canceled not adjusted. Orders are processed quickly and once they are moved to our shipping department an order can no longer be canceled, it would have to be returned (all returns are subject to restocking fees).
Disclaimer: Once the item has left our facilities, it is under the control of the third party shipping service. We always do our best to provide our customers with speedy service; however some things are out of our control. There is always the possibility for a delay due to these third party services or the possibility of a product becoming damaged or lost in transit.
The simple fact is, all of the above-described scenarios are unacceptable to us and we will never put this burden on our customers. If anything happens to a product in transit, we will always be willing to replace the product. Customer satisfaction is our number one priority and we do whatever we can to accommodate you.
Pinehurst Coins will not accept purchases for any item that is mispriced due to technical issues, regardless if those issues are caused by eBay's system or our own. All mispriced orders will be canceled and your money will be completely refunded immediately.
For large orders with customers that we do not have a previously established business relationship, a wire may be necessary. This will be determined at the discretion of Pinehurst Coins.
Payment is due at the time of checkout, no exceptions.
We do not offer discounts unless it is otherwise posted on our listing. Some listing will provide you with a bulk purchase discount. Please see individual listings for details.
Placing an order locks in your price. We do not offer price adjustments on our items. Both the precious metals and numismatic markets can be volatile and change on a regular basis. Placing your order locks in your price and this price cannot be adjusted. We will not charge you additional money if the price goes up therefore if the price goes down we do not credit you the difference.
Pinehurst Coins offers its customers a return and/or exchange policy on everything we sell, WITH THE EXCEPTION OF BULLION ITEMS. If you are not completely satisfied with your purchase, please call 910-235-COIN (2646) or contact us via eBay's message system to discuss your concerns. We always do our best to satisfy our customers.
Returns are accepted for 14-days from the date the customer receives the item(s), provided that all items remain in their original packaging and you notify Pinehurst Coins via phone or eBay message system within the 14 day period. Items removed from the original packaging cannot be returned. Note that shipping and handling charges will not be refunded. If you must return an item, please contact us at 910-235-COIN (2646) and a customer service representative will instruct you on how to package and return your items.
When returning an item you will be responsible for the return shipping costs. We Pinehurst Coins reserve the right, at our discretion, to reject any returned items that do not comply with these requirements.
All returns are subject to a 10% restocking fee.
ALL BULLION ITEMS ARE FINAL SALE. Due to the volatile nature of the bullion market all gold, silver, platinum and palladium bullion sales are final. You may cancel your order, however all cancellations will be subject to any market loss as described in our Market Loss Policy.
Founded in 2004 by current President and CEO Vincent Wade, Pinehurst Coins is a family owned and operated business. Since the companies inception, the goal has been simple; create a business model in which the client always receives excellent customer service and a quality product at the best possible price. We have stuck to this model and never looked back.
At Pinehurst Coins we are very much aware that coin collectors are immensely pragmatic and detail oriented. We know what our clients want and what they expect. This is precisely why we always go the extra mile to ensure every coin we sell has been thoroughly inspected by one of our full time numismatists before it ever makes it into our client's hand. You can purchase with confidence, knowing that satisfaction is guaranteed when you purchase from Pinehurst Coins.
For those of you who are existing customers and are taking the time to read this; we thank you. As for the first time customers, we appreciate you giving us a chance to meet your numismatic needs and we promise that you will not be disappointed.