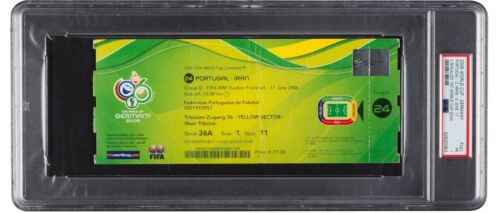 Price: 2,199.99 USD
Cristiano Ronaldo "1st WC Goal" 2006 World Cup Full Ticket PSA Rookie Card (RC)




June 17th 2006 World Cup Match #24 Full ticket
Cristiano Ronaldos World Cup Debut Season
scores his 1st Ever World Cup Goal!!!
  Ticket from Ronaldos
 1st Rookie World Cup & First Ever WC Goal!
VERY RARE!! THE RAREST!!!
Authenticated by PSA & Encapsulated
1 of only 9 ever Authenticated by PSA
 to put that in perspective PSA has done 46
 so the Pop Report for this ticket is lower by insane margin!!!
 HOW MANY OF THESE DO YOU SEE??!! DONT MISS OUT ON THIS GREAT OPPORTUNITY!! GET THIS WHILE YOU CAN!!